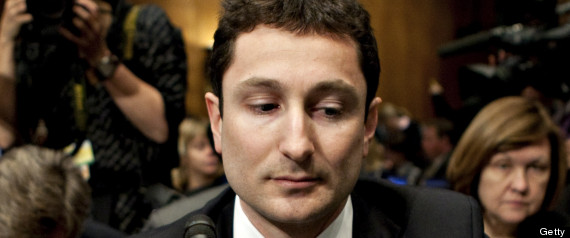 'Fabulous Fab' Fabrice Tourre is a curious case in the annals of financial fraud. He may well be the door opener to a flood of personal civil litigation to at long last hold accountable those responsible for the mega-financial fraud that became known as the Global Financial Crisis of 2008.
However, it is hardly the legal triumph that these financial reporters, many of whom have the financial chops of a bucket of worms believe it to be. 'Fabulous Fab' was by no means fabulous to begin with having achieved the lowly rank of vice president which is one notch above entry level at Goldman Sachs after nearly 8 years.  There are mailboys at Goldman Sachs of greater moment and prestige. Secondly, the poor blighter had emailed his confession to his girlfriend. An act which he declared romance and the SEC termed scienter: foreknowledge of wrongdoing.
"More and more leverage in the system, The whole building is about to collapse anytime now!" He wrote signaling foreknowledge and causing her heart to flutter.
"Only potential survivor, the fabulous Fab standing in the middle of all these complex, highly leveraged, exotic trades he created without necessarily understanding all of the implications of those monstrosities!!!" And then, the audacity of boast.
The ineptitude of the SEC can be measured in that given a signed confession they are yet championed for managing to not blow it before the jury.
The Times of London in fact chortles "American financial watchdogs secured a notable victory last night as a former Goldman Sachs star trader known as "Fabulous Fab" was found guilty of defrauding investors in a $1 billion mortgage-linked deal that collapsed during the financial crisis."
Reuters did a puff piece proclaiming that the legal skills of Securities and Exchange Commission head litigator, Matthew Martens, who came down from his mountain to actually try the case before a jury had brought an evildoer to heel.  Reuters viewed it as a big win for the SEC as it usually only wins cases put before an SEC administrative law judge and fears juries above all else.
According to Reuters:  Martens said in an interview it was important that a case deemed significant by the agency should garner attention from the top. He said the verdict should rebut critics of the SEC's trial record, which has taken hits amid setbacks last year in other financial crisis cases.
"If this doesn't convince people we can win these cases, I don't know what would," Martens said.
And in that quote the impotence of the SEC as a regulatory institution is laid bare, for if winning a case wherein you actually have a signed confession is viewed as proof of regulatory competence, then the SEC is in a very sad state indeed.
Here the SEC had accused Tourre, a 34 year old Parisian who came to America to study at Stanford, of defrauding investors by rigging the system. 'Fabulous Fab' did not disclose that the entire synthetic collateralized debt obligation called Abacus 2007-AC1 had been structured to fail most magnificently by billionaire John Paulson's Paulson & Co hedge fund. Paulson & Co had further stacked the deck by selecting the subprime mortgage securities that went into the deal.
Now the purpose of a hedge fund is to expose financial fools. Paulson & Co was doing just that. The problem for Tourre, according to the SEC, was that he knew the game was rigged and had fiduciary obligations to disclose this to Goldman Sach's customers.
The regulatory incompetence of the SEC is that it has failed monstrously in holding accountable any truly top-level investment bankers who clearly possessed scienter.  It is not enough to once again scapegoat a nonentity whether he bills himself as fabulous or not.
Foreknowledge of the impending collapse of the financial markets is seen in the numerous tales of whistle-blowers found in the Congressional Report on the Financial Crisis.
For example, in preparing an expert witness report on Citibank's push into subprime debt, I was astounded that none of those executives face similar civil suits. Whistleblowers at Citibank faced severe punishment for their clear disclosure to top level executives that untenable risk obtained from derivative securities in Citibank's portfolio. This is what the SEC punishes Tourre for having withheld.
Mr. Martens should wait to pat himself on the back until after a CEO of a major investment bank is confronted before a jury for the massive fraud that derailed the lives of millions. Citibank would be a good place to start.
Related articles
Father, CEO, Author, Speaker, Harvard MBA, MIT MS BS
Managing Partner -
Jett Capital Management LLC
,
Offering Private Equity, Intl. Corporate Finance, Expert Witness, Reputation Management
Joseph Jett - The Official Blog
,
Join me on Facebook
,
Google+
or on my
Verified Twitter Account
Latest posts by Joseph Jett (see all)